1.) Kyle Busch – scoring 6 top 10's in the last 7 races this season, Kyle heads into yet another one of his better tracks. He showed blazing speed last year leading a race high 87 laps until he got in an accident battling for the lead ending his day early. He would have went on to have won his 3rd consecutive Brickyard 400. Kyle can clinch the regular season championship this weekend and get an extra valuable 15 playoff points.
2.) Kevin Harvick – Harvick is tied for 1st (with Chase Elliott) among active drivers in the last 6 races with an average finish of 5th. Heading into Indy he holds an average finish of 5.75 in the last 4 races at the Brickyard which shows he is very consistent. The #4 team is hitting on all cylinders and looking for a solid regular season finale finish before kicking off the Chase for the Championship.
3.) Kyle Larson – coming off a dominating performance in one of the three "Crown Jewel" events on the circuit The Southern 500, a heartbreaking last 10 laps for Larson saw the win slip away on a final restart. Other than last year's crash that saw him finish in 28th place, he has not finished outside the top 10 at Indy in his 3 other starts. Fully expect Larson to be contending for the win this weekend.
4.) Chase Elliott – Chase has an average finish of 6th in the last 7 races. His previous results at Indianapolis have not been very appealing with no finish higher than 15th. I have him this high in the rankings based on his results the past couple weeks. He will be in contention for a top 10 this week.
5.) Kurt Busch – 17 starts at the Brickyard, and what a better time for Kurt to be coming into the track where he is winless. He has been very solid as of late and has over taken his teammate Clint Bowyer as the 2nd best car at Stewart-Haas Racing. Indy has not been too kind to Kurt in the previous years but I can see Kurt battling for the win and kissing the bricks this weekend.
6.) Brad Keselowski – Huge win at Darlington for Brad, he was able to capitalize at the end of the race and make the pass on Kyle Larson to win the race. It still doesn't solve all the pieces to the puzzle, as they have still been lacking speed on long runs. However, this does show they do have what it takes, when it counts to be in contention. Brad almost won this race last year but got passed on a overtime restart and brought home a 2nd place finish. Look for the Miller Lite Ford to ride the momentum going into Indy this weekend.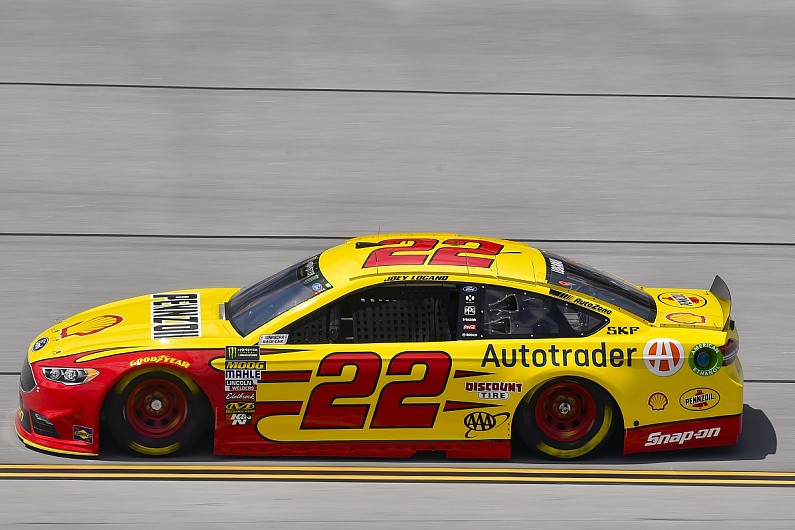 7.) Joey Logano – Joey is riding a streak of 3 top 10's in a row. Since 2013 he has not finished outside the top 10 at Indianapolis, I like those numbers going into this weekend. Also, nothing would feel better to him than to get "The Captain" Roger Penske a win at a place he has so much history at.
8.) Erik Jones – Erik is a guy I can see spoiling the party this weekend and kissing the bricks as a surprise winner. He has been consistently running inside the top 5 each week and Chris Gayle has made the right calls getting the #20 machine dialed in. He is currently 5th among drivers in the last 6 races with an average finish of just over 8th. Last year at Indy he lead laps and scored stage points. He will be feeding off his teammates this weekend and he will be up front racing for the win.
9.) Ryan Blaney – Ryan showed solid speed in the 2017 race at Indy. Like fore mentioned Jones, Blaney led laps and finished a strong 3rd behind Busch and Truex in the first 2 stages. Ryan got caught up in an accident that put his top 5 chances away late in the running. After a tough outing last week at Darlington, look for the #12 Ford to rebound this weekend.
10.) Denny Hamlin – 3 poles in the last 4 races, Denny has shown the kind of single car speed they need to get there first victory of the season. Indianapolis has been good to the FedEx team; in his previous 4 starts he holds an average finish of just under 8th Denny will be a solid pick this weekend (don't be surprised if he wins another pole this weekend) and if the team can put all the pieces together, he will be in contention for his first win of the season.
BEWARE / USE CAUTION
Martin Truex Jr. – Distractions, Distractions, Distractions. That has been the name of the game regarding the #78 car this week and Martin.  Last year he was racing for the lead with Kyle Busch and they ended each other's day after making contact sending both spinning. He has made 13 career starts and only has one top 5 finish at the Brickyard. With news of Furniture Row Racing shutting down at the end of the season, it will be talk of the garage area this weekend. I find it very difficult for the #78 team to be able to overcome that kind of distraction. Use caution this weekend if considering deploying Martin.
Clint Bowyer – 6 out of the 7 previous races has resulted in Clint finishing outside of the top 10. His teammate Kurt Busch has supplanted him as the 2nd best car in the Stewart-Haas stable, things just haven't gone the way they had for Clint at the beginning of the season. He has made 12 career starts at Indianapolis Motor Speedway, and only has been able to finish inside the top 10 in three of the races. I would suggest avoiding Clint this weekend.
UNDERDOG / DARK HORSE / SLEEPER
Chris Buescher – Chris has only made 2 starts at Indy in his career. Both finishes have been inside the top 15. He is coming off a solid 13th place finish at Darlington which is one of the toughest races of the year. He will be a good value pick this weekend.
Austin Dillon – Remember at Michigan when RCR rolled out the debut of a brand new car and Austin finished back inside the top 5? Indy is a down force and horsepower race track, I see similar speed this weekend from these guys.
Paul Menard – Paul collected his first and only ever Monster Energy Cup Series win at Indianapolis in 2011. Times have changed, yes; however, he is in a new car with a new team. He loves coming here and will be a stout pick this weekend with his low salary.
---