1.) Justin Allgaier – We kept Justin out of the lineup last weekend which turned out to be a good decision as he found himself in trouble and out of the race. He needs to be utilized this weekend, this season he has won 2 of the 3 road course races on the schedule and finished 3rd at Watkins Glen behind 2 cup series drivers. This weekend will be a wildcard race for sure and I want to stick with consistency since we do not know what to expect.
2.) Daniel Hemric – Daniel is so close to his 1st win, minor mistakes keep preventing him from finding victory lane. He will be tough to beat this weekend after finishing 3rd in the previous two road course races. I predict a solid top 5 for Daniel this Saturday.
3.) Cole Custer – a tough race at Richmond on Friday night found Cole in some trouble with fellow championship contender Justin Allgaier, which led to a 15th place finish. He has run fairly decent at the road courses this year. Cole has not finished outside of 7th place at the 3 venues. He will be in need of a good run this weekend if wants to get back inside the cutline to avoid elimination from the playoffs.
4.) Matt Tifft – Impressive top 5 last Friday night at Richmond for Tifft. He heads into the ROVAL with great showings at Mid Ohio and Road America. He led 15 laps and finished 2nd at Road America in August. Tifft and crew chief Randall Burnett are on the verge of their breakout win and it very well could be this weekend.
5.) Elliott Sadler – I said earlier I would go with consistency and Elliott is a great example of that. Elliott knows that this race is going to be a wildcard and he needs to do whatever he can not to ruin his run at a championship at this race. At the 3 road course races this season his average finish is 7th. The average is slightly skewed lower due to the cup drivers in the race at Watkins Glen but with none in the event this week Elliott should be inside the top 5.
DRIVERS TO WATCH
Tweed's IN – Ryan Preece – this didn't work out for me last week with Ryan. Unfortunate tire trouble early found him 2 laps down and was fighting back the remainder of the race. If he could have caught a few more cautions to get his laps back sooner it would have been a better showing for Ryan. He only ran Watkins Glen in the 18 car and brought home a 4th place finish. I'm in again on Preece this week.
Tweed's OUT – Christopher Bell – As much as I like Bell coming off a win and being locked into the next round of the playoffs, his road course program just hasn't been there this year. I would look elsewhere this weekend especially for the price you will pay for C-Bell.
VALUE PICKS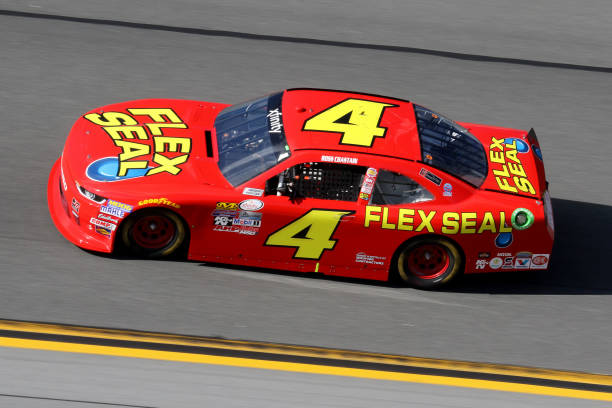 Ross Chastain – back in the seat of the #4 Flex Seal Camaro for Johnny Davis, Ross will look to ride the momentum he has created for himself the last couple weeks. Obviously not in the best of equipment but you can fully expect him to do what it takes to get his team to the 2nd round of the playoffs.
Justin Marks – Justin takes over the 42 ride for CGR this weekend coming in as a road course specialist. I like the upside here, with this race being an outlier I can see someone like Marks taking advantage this weekend. Also, if rain becomes a factor this is the guy I want behind the wheel after winning at Mid Ohio in the rain in 2016.
Austin Cindric – it has been a rough season for Austin this year in the Xfinity Series. Mid-Ohio however, was a bright spot. His pole position, race high 59 laps led, and 2nd place finish marked career bests. He has previous road course background and if he can keep all 4 Goodyears on track this weekend, he will be contending for a top 5.
Brendan Gaughan – another road course "ringer", Brendan arrives at the track this weekend after making 2 previous starts in the Xfinity series this year and both of those were at Mid-Ohio and Road America. Like Justin Marks, Brendan has nothing to lose this weekend. I expect him to put on a show and be inside the top 10.
Kaz Grala- Kaz's previous starts in the Xfinity Series came at the 3 road courses. Finishes were not where they expected to be however, this time around Shane Wilson and the crew over at Fury Racecars will have the #61 dialed in for Kaz. He grew up racing road courses and had good success in the truck series at the road courses. For what his salary is going to be I would use him as good lineup filler.
Alex Labbe – scored his first career top 10 in the Xfinity Series at Mid-Ohio earlier in the year. He also finished inside the top 20 at the other 2 road course races. Low in salary again this week I recommend using him in your lineups.
Andy Lally – Lally jumps back into the #90 this weekend for Mario Gosselin, replacing Mason Diaz. This will be his 3rd start of the season making it the most of his career since 2007. In his 2 starts this season he hasn't finished outside of the top 15. His low salary will make him a solid use this weekend at the ROVAL.
---