Kevin Harvick – This weekend winning starts here. Harvick has been absolutely on fire at Kansas. He holds an average finish of 3rd in the previous 5 races with 2 wins, most recently in the spring. He starts up front and leads a lot of laps. Consider Harvick a LOCK this weekend.
Kyle Busch – Interesting start to the playoffs for Kyle and not where he wants to be in the standings for sure. I look for the #18 team to get things back inline this weekend and get back into championship form. He is 3rd among active drivers in average finish with it being just over 6th and 1 win. Use him with confidence on Sunday.
Kurt Busch – Dominating weekend for the #41 team last weekend at Talladega, with the win slipping out of their grasp by running out of fuel. Kurt is very solid at Kansas finishing 8th back at the event in May and his average finish is great here as it sits at 9. He has momentum and the team is looking to sneak there way into the championship 4.
Ryan Blaney – Blaney this high? Oh yeah. You can bet that the #12 will be up front this weekend at Kansas. This is one of Ryan's best tracks they come to, with 5 starts and  average finish of 12th.  He has led 140 laps and 54 of them came in the spring race. He scored a stage win in the 1st stage and finished 3rd in the second stage before getting caught up in an accident finishing 37th. His average finish would be up there with Harvick's if he didn't have the 37th place finish up there. Blaney may steal a win this weekend.
Joey Logano – Joey loves when the series comes to Kansas, and there couldn't be a more perfect time. Running with a 5th, 3rd, and 10th place finish in the previous 3 races in the playoffs he can use this weekend to secure his spot into the next round with a good run. He is 39 points above the cutline and I expect him to extend that lead this weekend.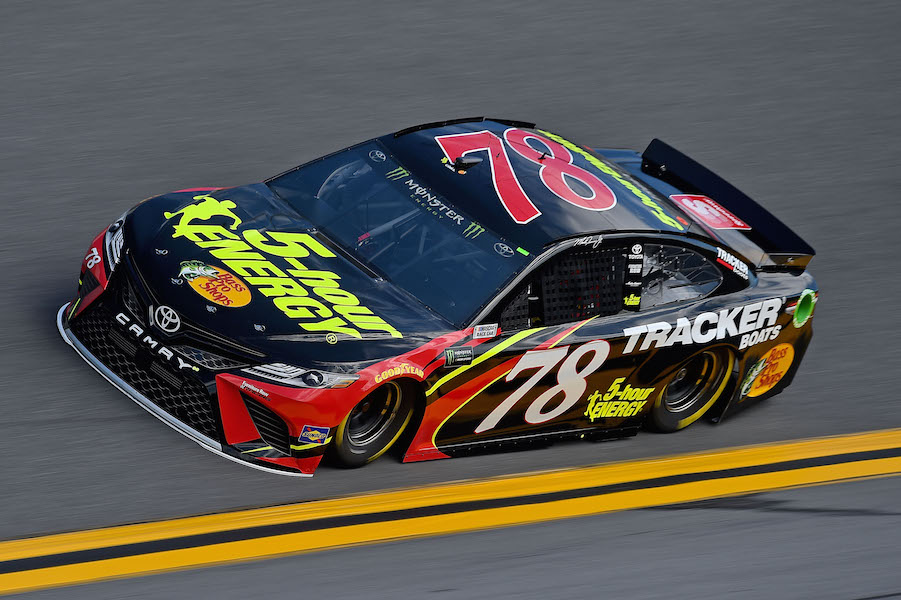 Martin Truex Jr – I am queasy over this one with Martin. He hasn't had a finish inside the top 10 in the 3 previous races in the playoffs. His average at Kansas however, is great. He is 2nd among active drivers behind Harvick holding an average of 5.8 and has the most laps led in the previous 5 races at Kansas with 380. I expect "The Big 3" to get back to their dominate form like they were in mid-season now that the schedule and outlier races have been completed.
Denny Hamlin – I can say I called this one! Hamlin has been amazing since the playoff pressure has subsided. 2 top 5 finishes in a row and he is good at Kansas. Can he steal a win away from one of the playoff drivers?  I wouldn't think so but he will be inside the top 10 for sure this Sunday.
BEWARE
Kyle Larson – He led 101 laps in the spring and finished 4th place after starting 22nd (positive position points) and he will need to do something special to advance into the next round of the playoffs. He does have 2 DNF's at Kansas but he has potential to be a very solid pick but with checkers or wreckers' attitude in mind, use caution.
Clint Bowyer – Home track race to Clint, nothing would be better than to bring home a checkered flag. The stars just haven't aligned right for Clint in Kansas. He finished 14th in the spring and only has one top 10 in the previous 5 starts. Use caution with Clint this weekend.
UNDERDOGS / DARKHORSES / SLEEPERS
Austin Dillon – Austin has an average finish of 11.8 in the previous 5 races at Kansas which is 6th among active drivers. He has been on and off the previous few weeks with running well and finishing bad have sort of flip flopped. I feel he will be a good pick this weekend.
David Ragan – David finished 13th here in the spring and he is coming off a tough outing at one of his best tracks at Talladega, a rebound is in store and he will be low on the salary side.
Paul Menard – He scores his best finishes on the mile and a half tracks, Paul will keep it going and look to build off a solid 6th place finish at Kansas in the spring this weekend.
---